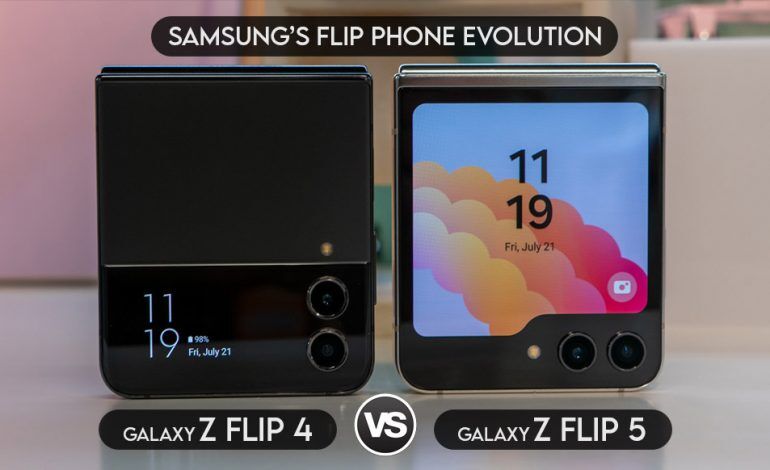 Samsung's Flip Phone Evolution: Z Flip 5 vs Z Flip 4
Samsung has been at the forefront of the foldable smartphone revolution, and the Galaxy Z Flip series is a testament to that. With the recent release of the new Galaxy Z Flip 5, many are curious about how it stacks up against its predecessor, the Galaxy Z Flip 4. Let's dive into the details.
Release Dates and Pricing
The Galaxy Z Flip 5 and the Galaxy Z Fold 5 were both released on 11th August 2023. This new addition to the foldable family showcases Samsung's continued innovation in the segment. As for the Galaxy Z Flip 5 price, it's positioned as a premium device, reflecting its advanced features. The Galaxy Z Fold 5, released alongside, also boasts premium specifications and pricing. However, with the Z Flip 4 now being a year old, those looking for a more budget-friendly option can find it at a reduced price.
Design and Build
Both the Z Flip 5 and Z Flip 4 boast a foldable design, allowing users to enjoy a large screen that can be folded into a compact form. They both weigh 187g and feature an Armor aluminum frame with enhanced drop and scratch resistance. The Z Flip 5, however, takes a leap with its IPX8 water resistance, ensuring protection for up to 1.5m for 30 minutes.
Display
The display is where the magic happens. Both phones feature a 6.7-inch Full HD+ Dynamic AMOLED 2X display with a 120Hz refresh rate. This ensures vibrant colors, deep blacks, and smooth animations. The Z Flip 4 has a smaller 1.9-inch Super AMOLED cover screen, while the Z Flip 5 offers a larger cover screen, enhancing the user experience when the phone is folded.
Performance and Memory
The Z Flip 5 is powered by the advanced Snapdragon 8 Gen 2 chipset, ensuring faster performance and improved energy efficiency. Both models come with options of 256GB and 512GB internal storage paired with 8GB RAM. However, the Z Flip 4 also offers a 128GB variant for those who might not need as much storage.
Camera
Both phones feature a dual-camera setup with a 12 MP wide and 12 MP ultrawide lens. This ensures crisp photos with a wide field of view. The selfie camera on both is a 10 MP shooter, but the Z Flip 5 has a slightly wider aperture, allowing for better low-light performance.
Battery and Charging
The battery life on both phones is powered by a 3700 mAh Li-Po battery. They support 25W wired charging, which can juice up the phone to 50% in just 30 minutes. Additionally, both support 15W wireless charging and reverse wireless charging, though the Z Flip 5 offers a faster 4.5W reverse wireless charging compared to the Z Flip 4's 4.5W.
Conclusion
Comparing the Samsung Galaxy Z Flip 5 and Z Flip 4, it's evident that the Z Flip 5 brings several enhancements to the table. From its advanced chipset to its improved cover screen size and refreshed design, the Z Flip 5 upgrades in a few key areas. However, the Z Flip 4 remains a formidable option, offering solid specifications and performance for users who seek a more budget-friendly foldable smartphone experience. For those in Australia, the Z Flip 5 smartphone is now available, and with the Z Flip 4's reduced price, it's a great time to buy a Samsung Galaxy flip phone.
For those who are still on the fence, checking out Galaxy Z Flip 5 reviews might offer more insights. And if you're considering accessorizing, there are various Samsung Galaxy Z Flip 4 cases available to protect your device. Ultimately, the choice between the two comes down to personal preference and budget. Whether you opt for the latest Z Flip 5 or the still impressive Z Flip 4, you're in for a treat with Samsung's innovative foldable technology.
Read More: Comparing the Samsung Galaxy S23 Models.