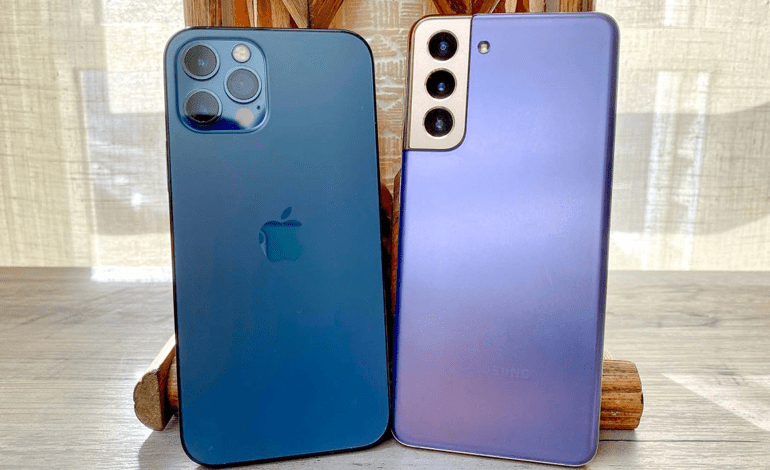 iPhone or Samsung? Why Do People Still Prefer Samsung Mobile Devices?
Samsung and Apple are the two leading smartphone brands selling millions of units across the globe. Australian buyers also love to buy and use smartphones launched by those two brands. Samsung wins the competition by selling more phones and wearables than Apple.
Both brands have been competing to be the market leader in the mobile phone industry for more than a decade. Samsung was selling mobile phones years before Apple entered this market. Apple became the most prominent smartphone brand after launching the iPhone. It could not maintain that leading position for a long time because Samsung started competing with its Android devices.
Today, Samsung is the first choice of millions of Australians. Why do people still prefer Samsung mobile devices? Let's find out!
Whenever Apple launches a new smartphone, it costs a lot more than its predecessors. iPhone lovers make a lot of sacrifices to buy the latest device and use it. Samsung knows that people seek affordable and top-performing devices. Therefore, this brand provides competitive features in a more affordable device. You will always have 4-to-5 cost-effective smartphone options when checking the list of Samsung smartphones. That won't be the case if you shortlist the best Apple devices. You can buy a much better Android phone at the cost of an iPhone. You can also look at Samsung's A series vs S series comparison if you want to explore more.
Access to a wide range of apps!
Just check the list of applications available on the Google Play Store and Galaxy Store. You will get millions of useful applications for free. There are numerous options in all app categories. The iTunes store also provides a wide range of apps, but you will have to buy most of them. Not every smartphone user wants to spend hundreds of dollars on apps after buying a costly Smartphone. That's why many people choose Samsung phones to maintain the device in a budget-friendly way!
Is that true? Apple often promotes its smartphones as the safest devices one can get. It does not allow users to pair the phone with Android devices. It blocks most suspicious apps and this Smartphone is considered the best for protecting data. Can apps and programs steal your data from a Samsung device? No, this smartphone allows you to administer all the security features. You get cutting-edge security tools to lock sensitive information. Even if somehow hackers get into your device, they won't be able to access secured information. Users have praised this company's efforts to make Android devices safer without complicating the UI design.
Does Apple make major changes to its smartphones? No, Apple phones look pretty identical and easily recognizable. Some users like that design and some users don't. Many experts believe that Apple has stopped experimenting with the design of its devices. Steve Jobs has always focused on making Apple products more beautiful and the company has forgotten its USP! Samsung is the frontrunner when it comes to introducing devices with innovative designs. It has recently introduced smartphones with foldable displays. Those devices are extremely sturdy and equipped with the latest chips, camera components, and other features. Samsung engineers design impressive smartphones to attract buyers. Those phones look attractive and perform like top-end computing devices. That's a major reason Samsung sells more phones in Australia than Apple.
Not all Samsung devices beat iPhones in terms of performance, but the latest Android phones got an upper hand! Galaxy S22 Ultra and other newly introduced smartphones easily outperform iPhone's top models. Users get better battery life, cameras, processors, and storage than iPhones. Most iPhone users struggle to store data because their device's storage capacity is pretty limited. Samsung offers devices with humongous storage capacity. This brand has recently introduced phones with a 1TB storage capacity! That's unbelievable for many buyers, especially for Apple device users because most Apple phones have 64-128GB storage capacity.
Impressive after-sales service
Apple establishes its service centres only in metropolitan areas. Some iPhone users travel hundreds of miles to get their smartphones fixed. The service provider can take several days or weeks to address the issue. It frustrates many users because they only have one smartphone! Samsung has established its service centres in many cities across Australia. It has impressed buyers with satisfying after-sales service. You can get the device repaired on the same day if there isn't a major issue.
Better customization options
Users love to customize their smartphones uniquely. Apple keeps its devices simple with a clean user interface. It started copying many Android features, but still, Samsung devices are more customizable. You can change themes, get numerous widgets, and thousands of apps to customize the phone. Apple devices lack those features and therefore Samsung attracts more Australian buyers.
Samsung is going to be the top smartphone brand in Australia for many years. It is constantly introducing devices with more innovative designs and features. Therefore, more buyers are choosing this brand's phones over Apple devices.